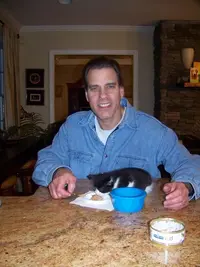 At 10 years old, Dr. Russell Katz was compelled to help animals after having seen his pet rabbits contract a deadly infectious disease, and after watching a foal (baby horse) being born while working on a ranch. While attending Cornell School of Agriculture, majoring in Biology and Chemistry, he worked on Cornell cooperative extension farm and was exposed to pigs, sheep, cattle and chicken husbandry gaining experience on a wide array of animal diseases. This fortified his desire to relieve suffering in animals. He graduated from Cornell College of Veterinary Medicine Class of 1988. Afterwards, he interned at the Animal Medical Center in Manhattan, these are the foundation for his success as an astute clinician and veterinary surgeon. He worked in two other Animal Hospitals in Westchester for 6 years before purchasing Pelham Animal Hospital in 1994, the same year of the birth of his first child. Over the years he has been active in the Westchester-Rockland Veterinary Executive Board, the Cat Show, and has provided low cost spaying and neutering for the local shelters. In addition, Dr. Katz is a frequent attendee of various local and nationwide continuing education conferences keeping abreast of the most current recommended diagnostics and treatments for his patients.
He provides care for any species that can fit through the door! His special interests are neurology, cardiology, ultrasound, and endocrinology.
Dr. Katz is an avid tennis and golf player, long-distances bikes, and practices yoga. He has been happily married for 25 years and has two children.