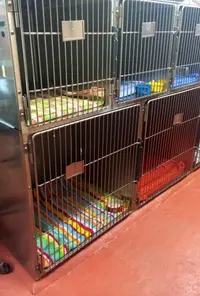 BOARDING:
We have always provided your pet a cozy, safe, temperature regulated environment and any needed medication when you board with PAH. Now we are able to provide any canine boarder with discounted Doggie Daycare in our brand new, secure outdoor doggie playground!
Also, we can provide bathing, and grooming (on request).
We accommodate any special diet requirements.
Your pet (dog, cat, rabbit, bird, hedgehog, hamster, guinea pig, etc.) will have dedicated and exceptional care at Pelham Animal Hospital.
Pets are monitored continuously by our Doctor, staff and though surveillance cameras.
GROOMING:
We provide medical grooming, such as shave downs, lion cuts and the removal of mats and tangles.
Medical grooming include cutting nails and baths. We provide and sell a variety of medicated and non-medicated shampoos for your dog or cat. Contact us to learn more!